As we draw closer to the announcement date of an imminent federal election, you may be wondering whether it's a 'better' time to buy property in Brisbane.
There is always a lot to weigh up during any major event, and it's important to make conscious and constructive decisions that are right for you and your circumstances.
If the election is a determining factor of your property purchase decisions, educating yourself on the parties, their policies, and how their policies will influence the property market will be your best tool.
Determining which parties' policies will positively handle factors such as an inflammatory market, capital gains, wage growth, interstate migration, commodity prices and who will support the growth of Brisbane infrastructure are all imperative aspects to consider.
When it comes to the residential market, the only tangible change we see in the lead up to elections is that some people choose to hold off from any property buying or selling decisions until they know the result, which can mean less competition if you are trying to buy but simultaneously, less supply.
Here's a few noteworthy policies to become familiar with if you are weighing up whether it's a good time to buy.
Handling an inflammatory market, commodities and capital gains
The Reserve Bank of Australia (RBA) have indicated a sequence of interest rate increases in the latter half of 2022 and into 2023. While inflation in Australia remains lower than many other countries, the RBA forecasts underlying inflation to increase further in the coming quarters to around 3¼ %, before declining to around 2¾ % over 2023 as supply-side problems are resolved and consumption patterns normalise.
When inflation occurs, commodities such as oil and energy prices typically increase and as a result, there is characteristically less heat in the property market. With interest rates at historically low levels, it's important that lending standards are maintained and that borrowers have adequate buffers to allow for economic shifts.
An inflammatory market will also affect economic scales such as Capital Gains Tax (CGT) which is the tax that you pay on profits from selling assets such as property. The RBA announced that we may possibly see the market begin to stabilise towards the end of 2022, so buyers should be more diligent with their property investments and not expect quick short term capital gains.
On March 29, the federal budget will be released which will shed light on how parties' plan to address housing affordability. While increasing interest rates can reduce market activity, it is important to remember even if/when rates rise throughout the year, it's raising from a historical low.
Unemployment and wage growth
Another determining metric for markets to monitor will be unemployment. The unemployment rate is at a 14-year low of 4.2% according to the ABS, and the RBA predicts a rate below 4% could be achieved in the second half of 2022. Put simply, when more people have jobs, more people have access to more financial resources, and therefore, people are more likely to invest in the property market. Overall, a decrease in unemployment is beneficial for the economy in general.
Wage growth over the 2021 calendar year has been referred to by the RBA as 'aggregate' and gradual due to the tight labour market. There is currently high demand to drive wage growth, which ultimately for buyers, supports the ability for workers to service loans, even when interest rates rise.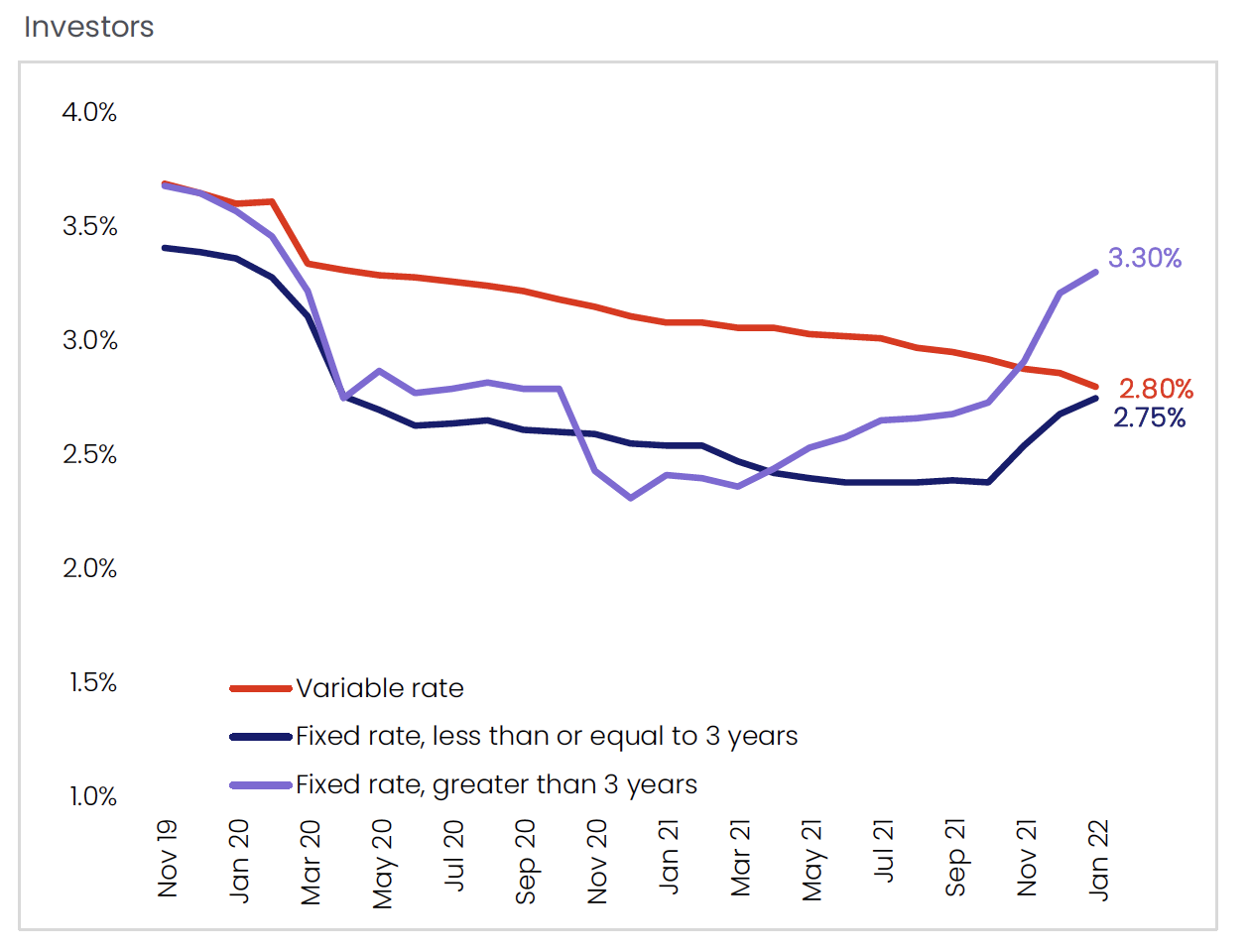 Source: CoreLogic Monthly Chart Pack
Interstate migration and borders re-opening
Another positive shift for the Australian economy is the return of interstate and overseas migration. CoreLogic reports that as international students, permanent residents, and Australian citizens are welcomed back to Queensland, there will no doubt be an increased demand for short-term accommodation.
This will mean a lift in occupancy rates and revenue across the short-term accommodation rental market and commercial accommodation, which is ideal for those looking to buy for investment purposes.
Many people used money they would have spent on overseas travel in property over the last two years and with it now returning, it will be interesting for the market to monitor how this will affect the property market.
Brisbane's Golden Decade
Brisbane is about to undergo a 'once in a generation' infrastructure boom over the next decade.
From private sector projects like the Queens Wharf development and planned construction to The Gabba stadium, to public transport initiatives like the Brisbane Metro, the incredible Brisbane that we see today will be even better tomorrow.
Infrastructure is pivotal for the growth of any city, almost always having a positive influence on housing prices.
The successful completion of infrastructure will be beneficial for Brisbane's economy, and in turn, will be positive for those wanting to invest all while improving the resale value of your home in the long run.
So, is it a 'better' time to buy? Ultimately, being well-informed on policies, factoring in potential higher interest rates into your budget, understanding vendor expectations and investing in a well-located property that will stand the test of time will be beneficial for your purchase decision process, regardless of the outcome.
If you would like more information or advice on purchasing a property, get in touch with a Place agent today. For more on what's happening in Brisbane subscribe to the newsletter below.
Article by Grace Holgate
This article was originally published in Place Insights: Property Market Insights from Brisbane's Real Estate Agent.