Refined, elegant and timeless – it's not hard to see the appeal of Hamptons-style homes. Perfect for Queensland climates thanks to their breezy and weather-proof designs, these exquisite beauties have endured a multitude of trends and have remained a firm favourite with homeowners. Love the look? We've broken down the defining features of Hamptons-style sanctuaries to get you inspired!
Weatherboard cladding
Possibly one of the most quintessential elements of a Hamptons-style home, weatherboard cladding fuses form with function. Featuring, quite literally, planks of weatherboard wrapped around the property's exterior, this eye-catching design detail helps protect from the elements and also evokes a sense of coastal-inspired charm. For a bold look, opt for a two-tone colour palette and add trims in a different shade. Or, keep things clean and crisp with a popular all-white exterior.
Scene-setting entries
A Hamptons-style abode should make you feel right at home, as soon as you step inside the door. So, don't overlook your property's entry. An arbour or front porch creates instant enchantment, especially when paired with Shaker-style columns or eaves.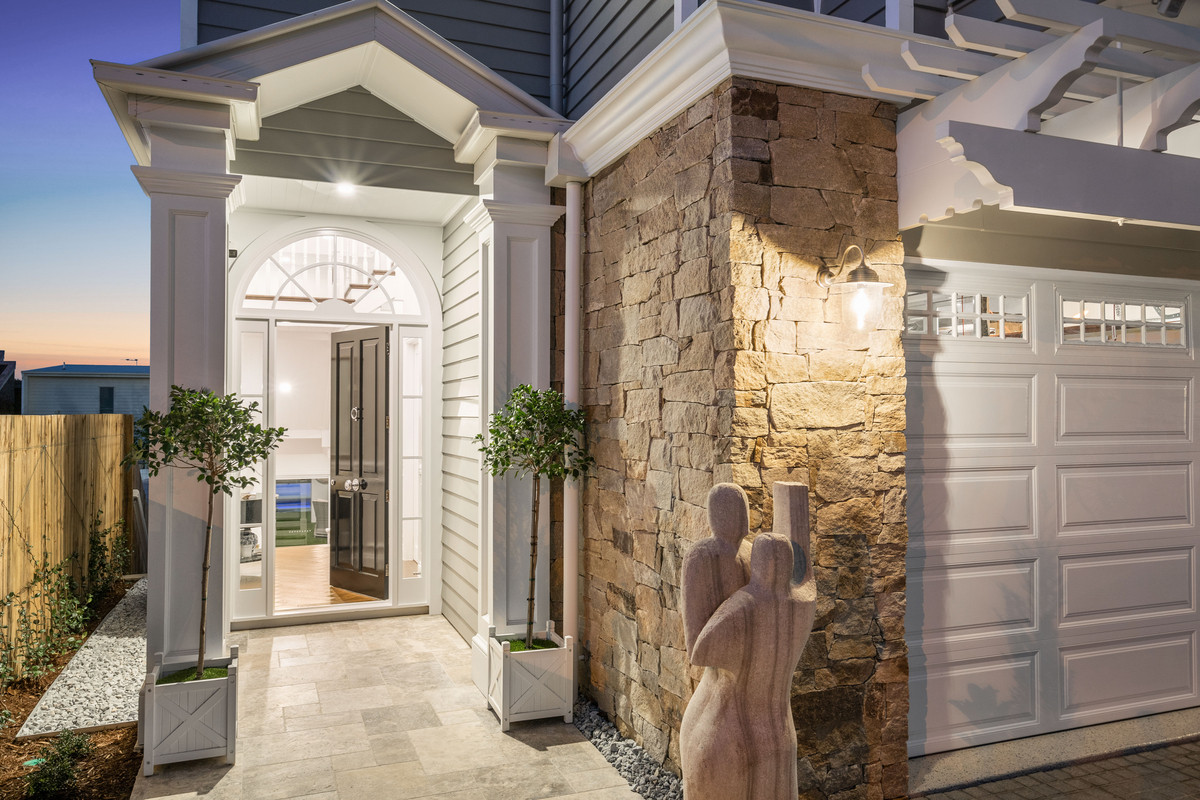 Natural materials
Part of the attraction of a Hamptons-style property is the way it takes its aesthetic cues from its natural setting. Think stone accents, grand timber staircases and linen textures for a coastal-inspired sanctuary. If your home and budget allows it, stone-clad feature walls and fireplaces have fantastic impact. Furnishing your abode with pieces like wicker chairs, shell-adorned pendant lights and woven rugs will also achieve a similar result and can be easily changed seasonally.
Mouldings and finishings
To really tap into the Hamptons look, consider the way your interior walls are presented. Decorative mouldings, cornices and architraves effortlessly balance heritage-style elegance with modern sophistication. More intricate features such as wainscoting and VJ walls or shiplap (shout-out to the Fixer Upper fans out there) also look wonderfully classic. Also, give thought to touches such as plantation shutters and recessed bookshelves to tick off both the functionality and aesthetics checkboxes!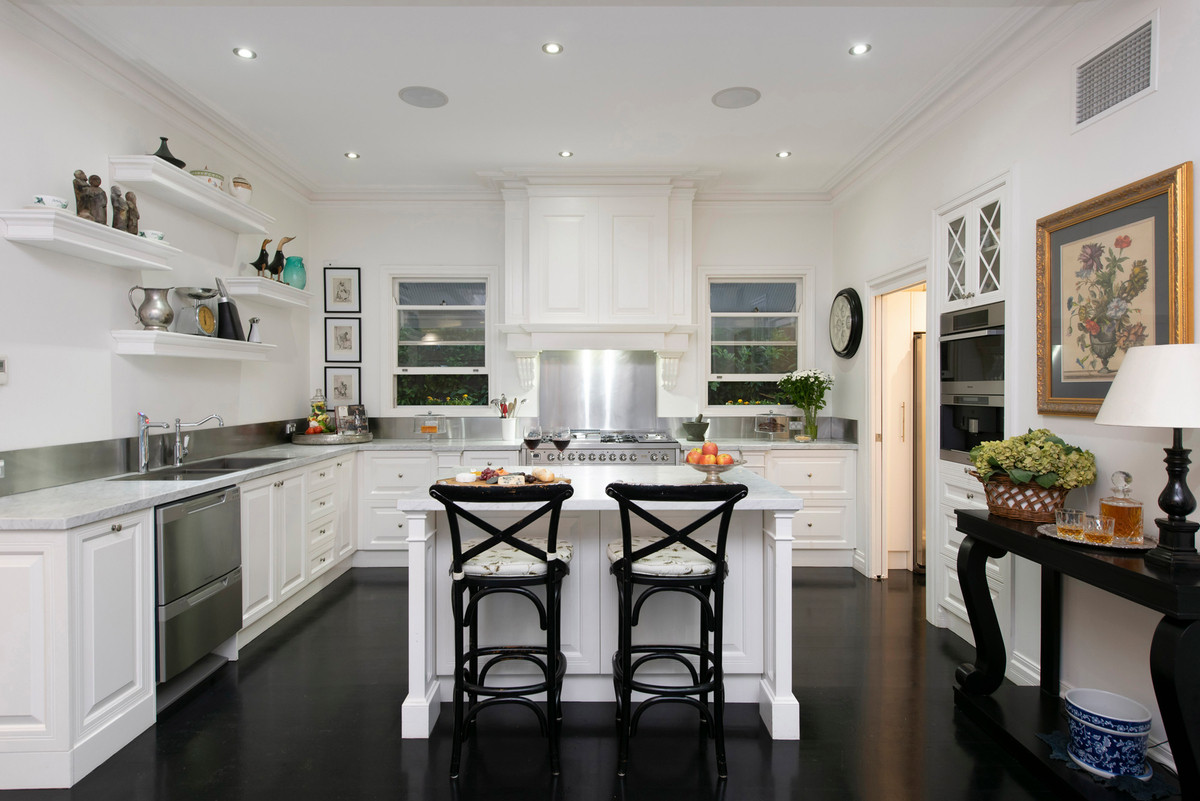 Shaker-style cabinetry
If there is one design detail that screams 'Hamptons', it would undeniably be Shaker-style cabinetry. Not sure exactly what that involves? Seek out cabinetry that look 'framed' by panels and have recessed panel doors. Synonymous with the Hamptons, this type of cabinetry works wonders for kitchens, bathrooms, offices and even storage shelving.
Encourage natural light
Situated on the idyllic coast of the North Atlantic Ocean, the Hamptons as a location is all about golden sands, glistening shores and windswept landscapes. Unsurprisingly, the destination's homes reflect this and aim to bring the outdoors in and maximise natural light. To make your property feel delightfully bright and breezy, install floor-to-ceiling or large-scale windows if possible. A light colour palette will also help natural light to bounce off walls and create an airy atmosphere.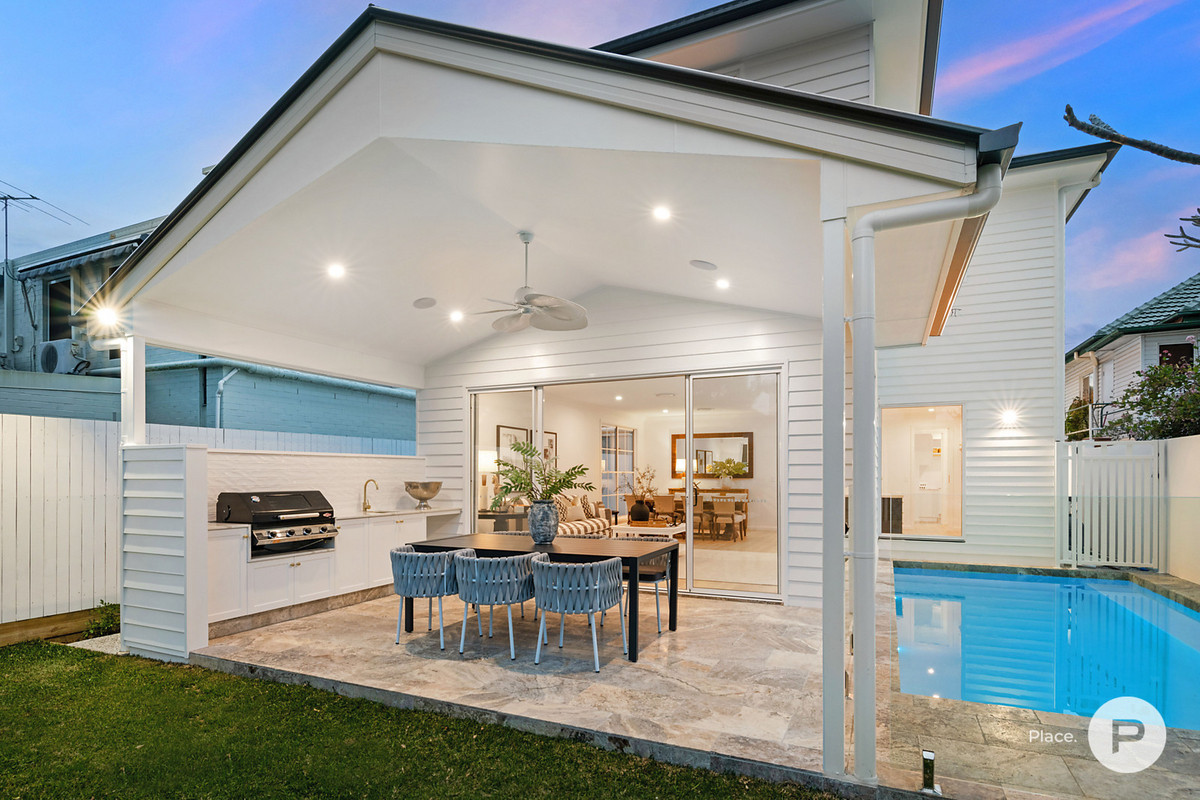 Gabled roof designs
Another brilliant way to encourage natural light into your home is by incorporating a gabled roof into your property's design. Loved for their ability to promote airflow, pitched roofs like these are typical of Hamptons-style residences and look truly timeless. For extra flair, go for this style of roof on an al fresco area to blur the lines between the indoors and the outdoors, or even embellish an upper level on a dual-level home to create attic storage space.
A calming colour palette
The world is quite literally your oyster when it comes to choosing a colour palette for your Hamptons-inspired property (nice coastal pun there), but if you're wanting to stick to the classics, keep things muted. Soft tones like pale greys, blues and greens are a go-to for a reason. Versatile and incredibly popular at the moment, an all-white colour palette is also spectacular for encouraging natural light. Be sure to add a striking feature wall or a colourful accent in your furnishings to add personality.
It's not hard to see why Hamptons-style homes have become so popular in Brisbane – many of the features resemble that of original Queenslanders, which are becoming more difficult to secure. Check out our recent article, 'the features of Queenslanders' here and see for yourself!
For more inspiration and to keep up-to-date with all things Brisbane real estate, subscribe to the newsletter below.
Article by Emily Russ