It's no news that the world of real estate is facing many challenges at the moment, thanks to COVID-19 and consequent Government regulations. At Place, we see these challenges as opportunities to innovate and provide new solutions for our valued clients, and the Brisbane community.
The team at Place make commitments to their clients to help buy, sell or lease their home and we're honouring that commitment by remaining one step ahead of the market.
With the help of Gavl, we have introduced Livestreamed Open Homes. As the only agency in Brisbane offering this feature, we returned a sense of normalcy to standard Saturdays in Real Estate and keep the market moving. Agents, buyers and sellers are reaping the rewards as we continue to transact properties of all kinds.
Damian Hackett, CEO of Place Estate Agents, talks to the tremendous success that the Livestreamed Open Home platform has brought to the group. "One of our core values is Innovation, and the introduction of Livestreamed Open Homes and Auctions into our agency has done just that," he says. "Our goal here is to continue what we do, in the safest way possible given the current times we live in, and this has been made possible with this new initiative."
When asked about the effectiveness of the Livestreaming platform, Damian notes an interesting observation between trandtional and Livestreamed Open Homes; "What's really great to see here is that with the flexibility this initiative brings to the table, we've found that not only is there an increase in open home attendance online, but groups are also easily able to jump-in and gauge immediately if the property is right for them," he says. "So, the groups that remain in the Livestream are most likely to be genuine and interested parties that the agent can then engage with. Everyone's a winner!"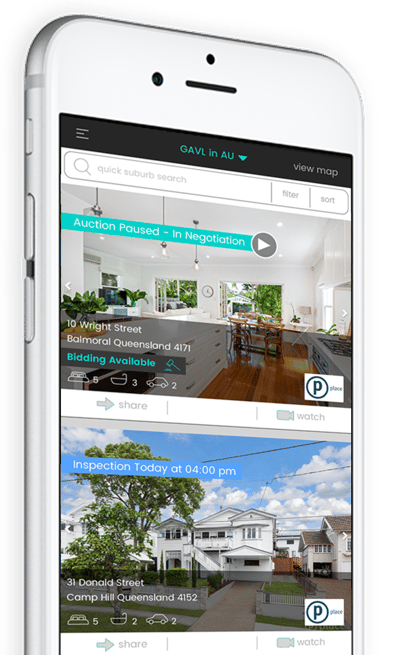 This week, Anzac Day falls on a Saturday. As per our normal procedure, real estate businesses are not permitted to trade, unless it is for essential property management transactions. As a result, open homes, meetings with clients and even responding to emails and phone calls related to work are all off-limits, and respectfully so. We encourage everyone to stop and remember the history of our nation on this day of reflection and respect.
For most agencies, this means forgoing an entire weekend of selling and showing real estate, but not for Place. Enter, Super Sunday.
This Sunday the 26th of April, the Place Group will have over 200 Livestreamed Open Homes in all corners of Brisbane, available to stream from wherever you are. If you're in the market for a fresh place, or enjoy having a viewing open homes at your leisure, then we've got you covered.
It's incredibly easy to view and participate in Livestreamed Open Homes, simply follow these steps:
STEP 1 – Download the Gavl app for Apple or Android or visit Gavl.com
STEP 2 – Search the Place properties you are interested in and plan your viewings
STEP 3 – View Livestreamed Open Homes at the designated times via the Gavl app or website
STEP 4 – Contact the agent to book a private inspection (this can be done at any time)
STEP 5 – Take it from there!
Place is committed to responsibly helping Brisbane residents with all their property needs. Running Livestreamed Open Homes is just one example of an innovative approach that is already delivering new ways to safely inspect, buy, rent and sell real estate.
Livestreamed Open Homes are virtual events where physical buyers and property owners are not in attendance and are watching via livestreaming on the Gavl app. All inspections are private appointments with no more than 2 people in the property at any one time and with all social distancing and hygiene standards strictly adhered to.
Article by Daisy Hicks