The global pandemic has catalysed remarkable shifts in the Australian housing market. From whole cities shutting down, an unprecedented monetary policy strategy, newfound popularity for regional living and the introduction of various government home-buying incentives, the COVID period has had distinct impacts on the composition of buyers and the overall dynamic of the housing market.
Two years ago, no one expected that Brisbane would be the fastest growing city in Australia yet, here we are! Let's explore eight of the major impacts on the Australian Housing Market.
1. Australian Home Values have risen to record highs
Despite an initial dip in 2020, housing values rose 24.6% between the end of March 202 and February 2022 across Australia. The graph below shows the cumulative change in the national CoreLogic Home Value Index since the onset of COIVD in Australia. There was a small decline at the onset of COVID-19, with sales and listing volumes being far more impacted than prices. After the initial decline, values began to soar amid low-interest rates, high household savings, government grants and the low supply of housing on the market.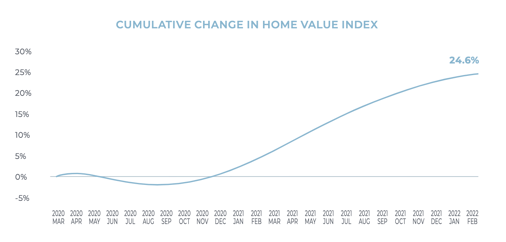 Source: CoreLogic
2. First Homebuyer Activity Spiked
First home buyers have made up a sizeable part of housing demand, particularly at the start of the pandemic. This cohort took advantage of more affordable housing options following the earlier downturn, along with record-low mortgage rates and government incentives.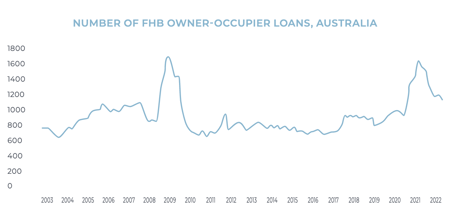 Source: CoreLogic
3. Rents rose 11.8% to record highs, while gross yields fell to record lows.
If you have recently been in the market for a rental or know someone who has, this will come as no surprise. According to the CoreLogic Rent Value Index, which ranks changes in rental valuations over time, rents have also surged to record highs. Much like home values, there was a sudden decline at the initial onset of COVID-19 followed by a swift recovery that has not yet ended.
4. Housing Debt Levels Hit Record Highs
A sizeable reduction of the official cash rate, which has been sitting at 0.1% since November 2020, has allowed borrowers to access more credit. As of January, total outstanding housing credit sat at a record high of over $2 trillion, according to the RBA, while the ratio of housing debt to household income was at a record high 140.5% through Q3 2021 (figure 4.0). This is up from 139.2% in March 2020.
5. There is a record price gap between houses and units
Both the composition of the buyer pool and the impacts of COVID have contributed to a record gap between house and unit values across Australia. In Brisbane, the median apartment price is $480,000, 53% cheaper than the record high median house price of $1,030,000. This marks the first reporting period where the median house price for Brisbane is over $1,000,000.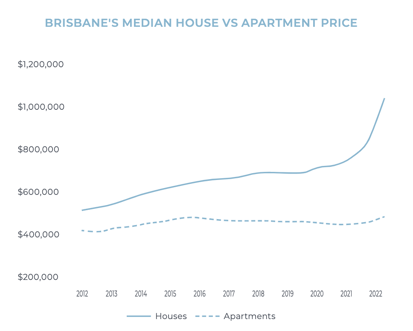 Source: CoreLogic
6. The Rise of the Regions
Migration trends over 2020 and 2021 revealed an uptick in the volume of people leaving cities for regions outside of lockdown periods, and a decline in people leaving regions for cities. The result has been higher than normal housing demand against unusually low levels of listings across regional Australia, in both the sales and rental market. Value gains across regional Australian dwelling values have been almost 40% since March 2020, while capital city home values have increased around 21%.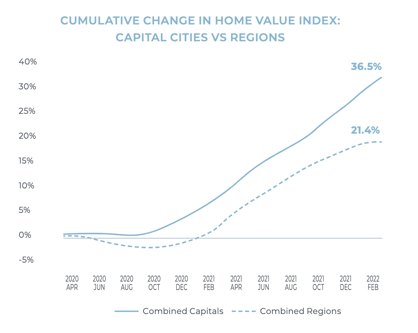 Source: CoreLogic
7. The Rise of Auctions
The most recent CoreLogic Quarterly Auction review has shown a significant increase in Auctions across Australia since the onset of COVID-19. This can be attributed to the market conditions as well as seller sentiment and confidence. On a local level, the rise in Auctions has changed the entire dynamic of what once might have been considered a sleepy market compared to Southern capitals. Traditionally, there would have been a lower clearance rate with a rise in the number of auctions however the Brisbane market has passed the volume test, sustaining a higher clearance rate through this period. This is a testament to the strong demand for property in Brisbane.
8. Technology is here to stay
If you had asked someone two years ago how many people bought a house without physically seeing it, the answer would have been very rare. Throughout COVID-19, particularly at the height of lockdowns, it was common for people to purchase property having only seen it over video. Likewise, it's incredibly common to see many phone or virtual bidders at an auction. What was once made available as contingencies is now normal and is allowing more people to view properties than ever before with some even preferring these new virtual options.
Where to from here?
Generally speaking, the current housing market upswing has delivered extraordinary value gains, supplying a significant wealth boost for homeowners, but larger hurdles to enter the market for non-homeowners.
As mentioned, we are now starting to see greater diversity across different markets in Australia, with Brisbane leading the growth end of the spectrum. The monthly rate of growth is being driven by the strong conditions in Brisbane which are offsetting a slip in values in Sydney and Melbourne.
Moving forward, many factors could skew the Brisbane market downwards, such as rising fixed-term mortgage rates and the prospect of higher variable mortgage rates, decreasing affordability and inflation.
However, the recovering economy with a record low unemployment rate, an increase in overseas migration and a new round of incentives in the lead up to the election should counteract this. Brisbane is unique also in that we are entering 'The Golden Decade' in the lead up to 2032 where we will see a multitude of new infrastructure that will continue to increase the liveability of the city, providing more confidence in buying decisions.
Article by Daisy Hicks